There is already an amount of CsV in the Tamaskan if you look at finnish lines, look eg at Jackal offspring or Ayasca, you can see it very clealy then.
Oh. That explains why this dog looks so much like a Czech Vlack. I believe in the topic I asked about her in, it was said that her name is Gerri and she is a daughter of Jackal. She's a beautiful dog. I'd love one of her offspring,but I believe she belongs to Blustag. And if I'm not mistaken, Blustag has been caught doing questionable practices and kicked off from breeding Tamaskans?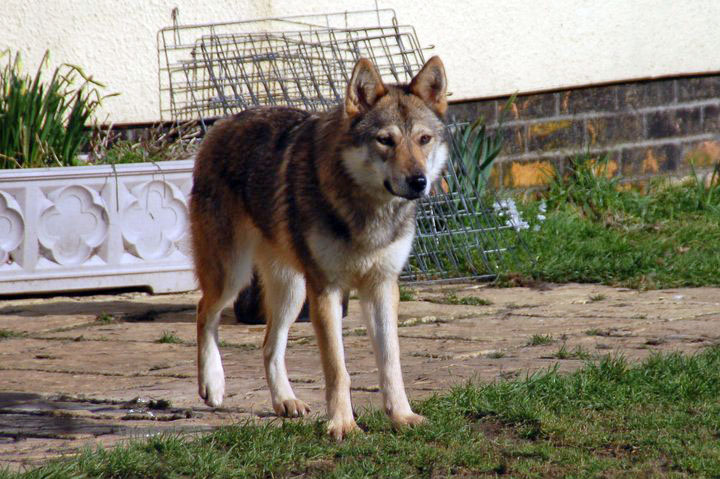 And yes it is kinda egoistic, but I do understand it in many cases, especially if the dog used are then taken out of another breeds breeding programme and that breed thereby loosing those genes..
If that were the case, I could understand with a breed still as rare as the Czech Vlack(atleast it's rare in America. I don't know how common they are in Europe.), why they would want as many genes as possible for the breed. However, I agree with Ryphen. Why can't the dog be bred with an outcross and then later also be bred with another of its same breed? With a female, I can understand the objection as she should only be with one male's pups at once in my opinion,but with a male, I don't think there's really a problem breeding a male to 2 different dogs in a short span of time. So, if they only used males for the outcrosses, I don't get what the big deal with that would be personally.
Well that's not entirely true, many breeds were not created out of mixes but "evolved" if you will, by human selection (many of the oldest breeds for example - you can't create breeds by mixing breeds if there are no breeds to mix.

But point taken - many of the more modern breeds were indeed created by crossing already existing breeds. And with a small gene pool, you need to add more blood anyway.
Oh yeah. I meant to say most,but I forgot because I was typing fast. I know some of the breeds like Canaan Dogs and Basenjis and such evolved from already exsisting feral dogs/pariah dogs that were captured and domesticated by people in order to become their own breed,instead of being a mix of breeds. However, like you said, a lot of the major and well-known breeds that exsist today were the result of mixing other breeds together.
This does however not justify crossing "My cute and kind little female with the neighbors nice doggie across the street" to get cute puppies. Some use that argument "all breeds were mutts at some point" to justify that, but I don't think you meant that. And a breed in progress like the Tamaskan can't be compared with that anyway, just so no one misinterprets this.
Nope. I didn't mean that. Although I have nothing against mutts, I roll my eyes when people try to claim their mixed breed or mutt is some rare new breed,especially when they try to sell it as such.
My aunt used to have a so called Yorkypoo. She was a sweet dog when she wanted to be,but I never considered her any kind of purebred, just some so-called "fancy" mutt my aunt owned.
Really, I'll never understand why someone would fork out so much cash for a mutt that they probably could find the same exact mix of in a shelter or rescue for just an adoption fee and saving the dog instead of contributing to the scammers that breed so called "Designer" dogs. I'll admit, I used to use the same argument for designer dogs though when I was younger and less knowlegable,but then I had the sense knocked into me when I realized that often times the same exact dog breed crosses being sold for thousands of dollars label as a "breed" can be found all over in shelters and rescues labeled as mutts that just need rescuing and only cost an adoption fee.